Working as a Horeca Manager at Join Program
What does a Horeca Manager do at Join Program? We asked Niels Jungst, who works as Horeca Manager at our partner Coty. In this interview he talks about the responsibilities and challenges of his job.
Tell us more about your role as Horeca Manager?
"As Horeca Manager at Coty I am responsible for the company restaurant, the kitchen and coffee bar. Together with the Account Manager, I manage all processes and make sure our location runs smoothly.
Some of my daily tasks are: planning staff, accounting for hours, place orders at the production kitchen and mapping costs and income.
At Coty we work with professional baristas in our coffee bar. This means I can focus on the processes and quality of our kitchen. Everyday for example, we check the food that is delivered from the production kitchen.
We have a good working relationship with the Production Kitchen. This allows for an environment where we can give feedback, to improve our product and services."
What is your professional background?
"I have been working in the hospitality industry since I was fifteen. I started at restaurants like Het Jagershuis en Praq. After a brief period at Loveland Events, I started working as restaurant manager at Brasserie Paardenburg. Here I worked for almost six years, and learned a lot.
Finally, I had a great experience as Assistant Manager at The Lobby Fizeaustraat, the fine dining restaurant of Hotel V. Here I developed a passion for wine. This lead me to follow a vinologist training at WTOL."
Why did you decide to Join Program?
"My girlfriend Inez works at Join Program. So already knew about the company for a while. One day Inez asked me if I wanted to work as Horeca Manager at Coty. At the time we were expecting our first child. I wanted to work more during office hours. Company catering offers the perfect solution: i can still working within the food industry, but during office hours."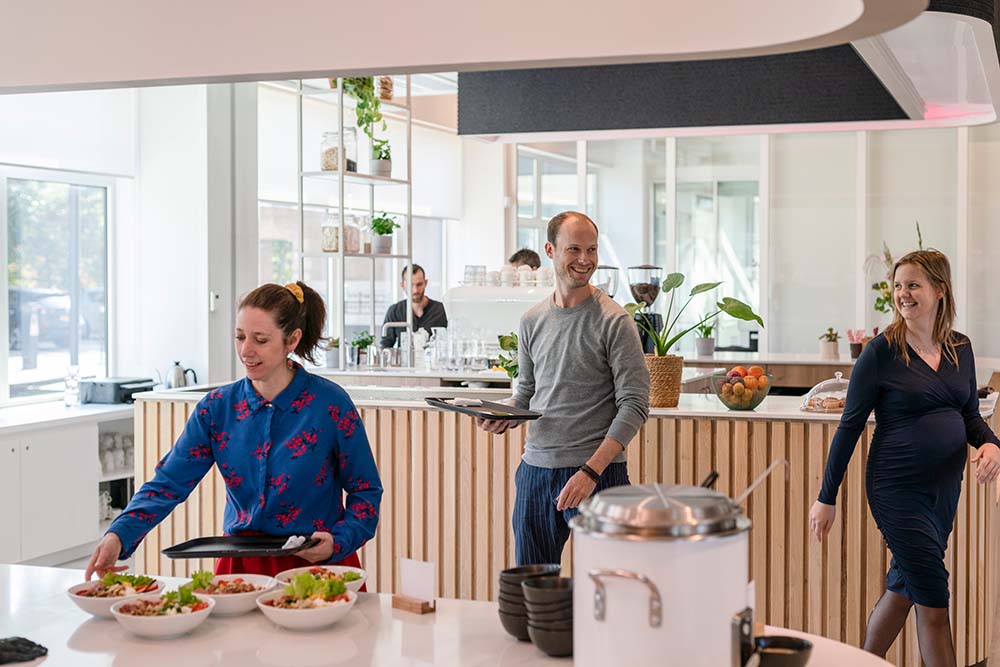 What are the challenges in this role?
"I think it's very important that you stand for something. For me, that is the concept behind Join Program. Sustainability, health, delicious food, always improving the product … this gives me energy. As Horeca Manager I also have good working hours. In restaurants, you often have to work very late. At a certain point I entered a phase of life where working during office hours suited me better. Finally, you see the same people every day. You're able to build a relationship with them. Employees at Coty see me as part of the company. That is really cool."
What are the challenges in this role?
"One of the challenges is that we're still growing as a company. We're constantly improving our product. For example: I work together with our Product Team to improve our mobile app.
In addition, it's a daily challenge to ensure that everything runs smoothly. This depends from client location to client location. Sometimes it can be challenging to set up a successful coffee bar. In larger companies it's challenging tot structure all processes.
We also need to improvise a lot. We have a great concept. But sometimes the client expects a little bit more than that."
What is your advice for an aspiring Horeca Manager?
"Learn as much as possible about the concept of Join Program. Find out more about the client location, where you will work. Can you align with their values. Then I think you'd have a great time.
Join Program is a true pioneer in the catering industry. It's amazing to be part of that. Because of the constant development, there is a lot of room for personal growth. So talk about your ambitions."
Want to work as a Horeca Manager for Join Program yourself? Take a look at our vacancies!
Experience it for yourself